There are now three exhibitions that can be ordered from this site. While most of the content on the proceeding pages speak to the View from Inside exhibition all forms and information apply to the other two exhibition too. When ordering simply clarify which exhibition you desire and we can accommodate your request.
The View from Inside traveling exhibition uses the work of Richard and Dion Neutra, architects, to address the question "What Is Architecture" in a new and provocative way.
The Amazing Neutras [in Orange County] was first seen in 2010 and repriesed again at the Museum, as its first show of '16. Despite this, 3 of the earliest Neutra efforts in OC have just been razed at Orange Coast College despite over 300 people signing petitions.
Neutra post Neutra is the latest exhibition. It was originally shown at the Museum [mid '15] and then repriesed at the Altadena Library in fall '15.
Abstract
"The View from Inside" is an easy-to-travel version of an exhibition originally curated by Dion Neutra in 1984 at the Pacific Design Center in Los Angeles, California, and seen again in the Los Angeles area in 1992, 1998, and 1999.
This exhibit is designed to develop in viewers a better general understanding of how the built environment affects their lives, behavior, and productivity. In particular, it shows how published architectural images tend to misrepresent the architects' mission. This problem is addressed by presenting the Five Neutra Principles through drawings, photographs, quotations, and client commentaries. They communicate the importance of NOT judging architecture PURELY by the printed two-dimensional images of the press. Instead, they encourage viewers to reserve judgment until a project can be visited, the context understood, and the idiosyncrasies of the client and budget evaluated.
At selected venues, a short video tour through the VDL Research House may illustrate the kinesthetic of "Sensing Architecture" through the dynamic experience of it.
The Traveling Exhibition
From its original format of thirty 48″ x 96″ floor-standing panels, the show has been condensed to twenty-nine 24″ x 42″ wall-hung panels. Panels include both black-and-white and color photography, letters from clients, and provocative captions illustrating such points as "Landscape ideas well conceived enrich living environments."
The result is an informative and handsome exhibition that familiarizes the viewer with general criteria by which to judge environmental design, and architecture in general, through exposure to a group of some twenty Neutra projects in particular.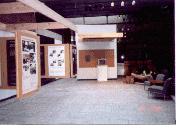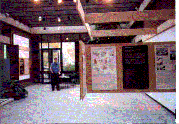 The Traveling Exhibition's Inaugural
The first off-site venue to commission the show was Macalester College in St. Paul, Minnesota. It opened there on October 16, 2000, the same day Dion lectured at nearby University of Minnesota in Minneapolis (read his remarks in the Articles section of this site). For views of how the show looked in the Macalester Fine Arts atrium, see below. The show closed in Minnesota on November 15, 2000.
In this format, an exhibition space of approximately 700 sf with approximately 120 sf of wall space should be ample to display the panels and a television monitor. A degree of security is required due to the value of this material (see Conditions). Unsupervised spaces are not suitable for this exhibit. It is hoped hereby to educate the public and professionals into becoming better "consumers of the built environment" (a favorite Richard Neutra expression). A video titled "Perception of Architecture" will travel to those venues with viewing facilities. Dion Neutra in person is available as a lecturer to speak on the subject for selected occasions.
Seeking Interested Venues
As a means of supporting Institute activities and the administration of tours of this show, it is planned to request a nominal Loan Fee contribution from each venue. A reusable crate will allow the trans-shipment of the panels to the next location.Institutions with gallery space for visiting shows should please indicate interest in this exhibition by e-mailing us at dion@neutra.org. Tours will be organized based on scheduling in venues for any part of 2000 on. Please include information describing the size and nature of your display area, and whether your budget would support more than just the show itself. (An illustrated lecture by Dion Neutra, architect, could be arranged subject to availability, subject to lecture fee + expenses.) It is contemplated to plan a six-week segment for each venue to allow for set-up, breakdown, and shipping by air freight to the next site. Less time is acceptable, of course.
The Five Neutra Principles
The show is organized around five principles important to the Neutra philosophy. Each of these is discussed and illustrated on various panels, drawing on about twenty Neutra projects from around the world. They are as follows:
Neutra architecture is about restoring man to his historic relationship to nature and its various elements. A reference to the philosophy of the firm to "place man in relationship to nature."
Architecture is an "applied art" it only "works" if man works better in and because of it. Architecture is more than creating an urban sculpture and then seeing if the program will fit into it somehow.
Flexibility of lifestyle/conservation of capital: an important responsibility of the Designer. Architecture is not about fashion. The large capital investment here requires some lasting qualities, as opposed to the throw-away tendencies of the fashion industry. The Neutra approach to this was illustrated in the original show by four very different interior treatments of a 20′ x 20′ "Neutra Room." Each of the treatments was in place for a period of three weeks. The simplicity of the Neutra background allowed for these many different expressions of taste.
Neutra architecture, like fine wine, takes years to mature. Although most photography was done shortly after the buildings were completed, it is only much later, after landscape has grown in, that the intended effect is realized. Before and after shots are used to illustrate this point.
User-oriented design: What do users think? The firm's approach is very much based on hearing what users desire and need in the design solution. Much time was spent with clients early on in meetings and discussion of program. Many letters of appreciation are reproduced from appreciative owners/users.
Conditions
The following are the basic conditions under which the show will be made available:
Loan Fee: $1,500 plus allowance of air shipment of the show to the next venue or back to Los Angeles. Note: Special Price in celebration of the 85th year in practice, 2011; limited time: reduce this fee to only $500!
Secured and supervised gallery space of approximately 700 sf and 120 lf of wall space available. Monitor and VCR playback equipment; preferably auto-rewind at end of tape (optional: tape is included with shipment).
Booking institutions are responsible for $5,000 of insurance to cover the exhibition for the duration of the show as well as during transit to and from the venue. Institute shall be named "additional insured" on package policies and evidence thereof submitted as part of original negotiations.
Security shall be of the "moderate" type requiring limited access, security personnel during open hours, gallery locked after hours; fire protection; light temperature and humidity control; professional handling and experience. Standard facility report is required to book the exhibition. A condition report shall accompany the show and be filled out within 48 hours of unpacking. Reusable crate shall be carefully protected, stowed, and used as directed. Items shall be repacked and directed to next venue per supplied instruction sheet.
Publicity. Exhibit flyer, supplied on disk, may be edited to suit venue and reproduced for mailing, posting, and handout at show. Copies of any stories about the event should be collected and returned to the Institute separately from the show traveling to the next venue.
Educational materials. The flyer acts as a questionnaire for feedback and continuing education credit.
Speaker service. Dion Neutra is available to speak at selected venues with prior scheduling and added cost. Please contact the Institute (dion@neutra.org) for details.
Please submit a resume of the history of the gallery or institution desiring to book the show along with dates available/desired. We are projecting dates of six weeks for each venue, allowing for set-up, breakdown, and shipping to next venue. This could be flexible, depending on local circumstances.
Flyer and Letters of Agreement
FlyerThe two-page, double-sided exhibit flyer is available in downloadable PDF format for printing and distribution. The flyer contains a color image: depending on your budget, you may wish to reproduce the flyer in color or black-and-white. The concept is that you would copy the flyer back-to-back, then paste in a label with your venue information in the blank space just above the footnote at the bottom of the first panel. Venue information could include the name of your institution, the dates of the show, the date of any reception, or other information particular to your venue that you would like to communicate if using the flyer as a mailer, etc. You could then copy this master as often as needed for your show, including copies to be used as handouts in the show, or for CEU credit questionnaires, etc.
Letters of Agreement
These are standard letters we have devised to be used as the project develops with the various venues. Samples of them appear below; they will be edited to suit your venue of course.
(Sent once we have evaluated your application, insurance, and gallery specs.)
II. Checklist
(Sent with the crated exhibition materials; acts as receipt of, and inventory of, all pieces of the exhibition while in your hands; and offers opportunities to report any damage. Please make copies so that the original can travel with the show to the next venue.)
III. Installation and Demounting
(A copy of this should be downloaded for your files once the agreement has been signed. It has pointers about mounting and demounting, etc. A copy will travel with the show as well.)
---