Here's the New Neutra Institute Museum and Gallery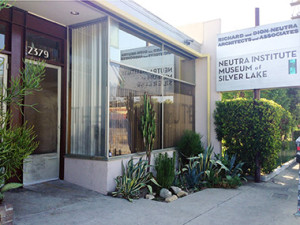 Please join us for a closing reception, Saturday evening, October 4, from 7PM to 10PM, at the new gallery/museum housed in the iconic Neutra Office Building of Silverlake
2379 Glendale Boulevard,
~ featuring ~
ART IN ARCHITECTURE

A photography exhibit and opening reception with the artist JOSELLE CELINE and the architect DION NEUTRA.
Saturday evening, October 4th 7:00-10:00PM.
We had a great turnout for our inauguration on August 21; 250 people at peak! While sales and donations were good, we're going to need to keep the momentum going financially in order to make this museum/gallery on ongoing reality for the community. Thank you for all the support shown.
Needed, going forward:
To keep the museum open, starting with weekends, we're offering an opportunity for co-workers to occupy two stations in the lobby. Bring your laptop and man one of these two spots during normal office hours. Participate in the creative energy of this historic building at no cost, and help us hold open for visitors at the same time! Send resume and get details from dion@neutra.org