JACKIE'S TREE #1: 16TH TEE-SCHOLL CANYON GOLF COURSE; GLENDALE, CA
This beautiful Mondell Pine was dedicated to the memory of Jackie Reinach Neutra on January 17, 2002 by the act of photographing Dion symbolically planting it and then hugging it. Photos of Dion taken by Bill McKinley of the city of Glendale, forestry department.
This spot was chosen by Dion for the following reasons:
• It can be glimpsed from below at the Clubhouse by non-golfers.
• Looking west through the branches of the tree, on a clear day, you can clearly see the reflective waters of Silver Lake far below; the site of the house Jackie loved so much in life.
• Dion plays this course most Thursday afternoons. He is always refreshed by the breath taking views of the City far below. And now, as he pauses to play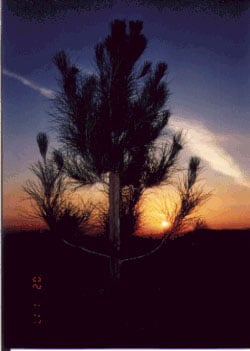 #16, a short Par Three, he'll be reminded of the wonderful woman who shared his life for six years minus two days.
• The tree as planted was 9′-0″ in height. It has been suggested that we measure it once a year on Arbor Day, the first week in March, and report on development! Stay tuned.
This seems an appropriate memorial for a remarkable soul who was with us for 70 years but who left us much too soon. She would have loved this spot in nature where her spirit can reside and soar with the eagles.
• News Flash: Summer, 2003. Dion, playing Jackie's hole on June 12, 2003 by himself, hit two range balls off the tee; both good, but a bit long. Hit a third ball, easing off a bit; couldn't follow the flight; seemed good. Got down to the green; saw the first two balls 10′ past the hole; third ball appeared to be in the rough off to one side. Chipped that ball up towards the hole, and to his amazement THERE WAS A RANGE BALL IN THE HOLE! Someone must have lost a range ball in the rough; he found it, but in actuallity his actual third shot was A HOLE IN ONE! Of all the par 3 holes on this golf course, which one did Dion pick to get his third Hole in One in over 30 years, but Jackie's No. 16! The first one was at DeBell Golf Course in Burbank, CA, on May 6, 1967. The second was when he played the Old Course at St. Andrews, Scotland, for the one and only time! That was on May 26, 1983. Both of these were in the 170 yd range. Jackie's hole plays about 110yds.
Latest Measurement: June 12, 2003. 11′-0 [too tall to measure more]
Latest Measurement: July 10, 2002: 10′ -0″
Measurement: June 6, 2002: 9′-10″
Measurement: May 9, 2002: 9′-5″
Measurement: March 7, 2002: 9′-0″
JACKIE'S TREE #2: 2440A NEUTRA PLACE, SILVERLAKE, CA.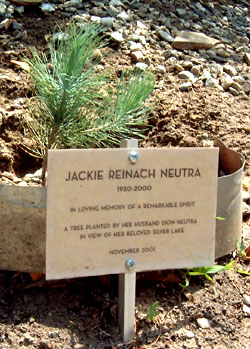 • On Arbor Day, 2001 Dion got a sapling to take home to plant. It was slow in starting but by May, 2002 it looked it would survive. He planted it at the property at 2440 Neutra Place, where it gets plenty of sun, and has a view onto Silverlake.
JACKIE REINACH NEUTRA (1930-2000)
In loving memory of a remarkable spirit
A tree planted by her husband Dion Neutra
In view of her beloved Silver Lake
November 2001.
On May 9, the first measurement was taken: 6.75″!
Latest Measurements:
July, 2004: 24″
June 12, 2003: 12″
July 10, 2002: 7″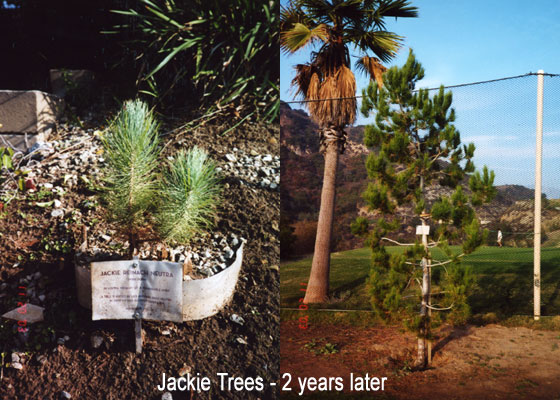 AN UPDATE FOR THE DION MEMORIAL TREES, FALL, 2008
In view of the way both trees had prospered over the years, Dion decided as a birthday present to rededicate the Neutra Place tree to his wife Lynn, who was born on New Years Day. The Jackie tree remains hers on the golf course, Lynn gets the sapling in its new life facing Neutra Place. A new plaque was placed there dated January 1, 2004; it reads:
LYNN ELEANOR SMART
A Tree dedicated to her In view of Silver Lake In honor of her remarkable spirit
Planted with love by Dion Neutra January 1, 2004
This is how the two trees looked in fall of 2008. At some point in 2006, when Dion came by, he noticed to his horror that the greens keepers at the golf course had trimmed all the lower branches away on the Jackie tree! Heartbroken, he complained to the golf course management, but by then it was too late. Jackie was permanently disfigured but continues to grow, to where she is now well over 20 feet; too high to measure. The Lynn tree, by contrast, after nearly 5 years, is flourishing like crazy, now topping 12 feet and looking perfectly GRAND!
AN UPDATE FOR THE DION MEMORIAL TREES, WINTER, 2011
View of Jackie's tree from #13 tee just above #16 down below.

Jackies tree in fall 2011 on #16 tee.

View of Jackie's tree from #16 tee looking Northwards; #15 green just behind.

Closeup of Jackie's plaque which is just above where her branches were trimmed.

View of #15 green with Jackie's tree beyond on #16 tee.
Above are five views of the Jackie tree as it has prospered at Scholl Canyon. As you can see, it's now approaching 40′ high, almost as tall as its neighbors the palms. It's historic plaque has survived now for nearly as long as the tree, nestled up high where the branches start.
Here are some views of Lynn's tree; also looking just great having had 10 years to grow from a sapling! It measure about 20′ high I would guess.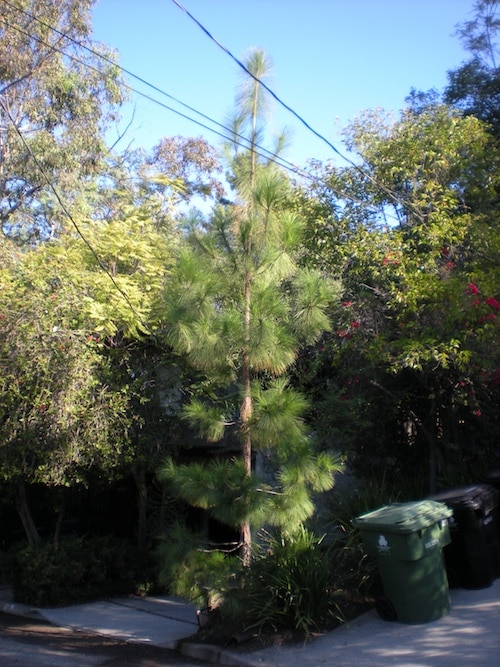 AN UPDATE FOR THE DION MEMORIAL TREES, SUMMER, 2019
This was triggered by the receipt of an Email from Zoey Reinach, grand daughter of Jackie, reaching out to make contact after 20 years or so. I remembered her at about age 6; she's now 26, and has her own career. We made a date to see one another on Tuesday, June 25, 2019.
First an update on the status of the Aces. Since 2009, when I got #7, there was quite a hiatus. It wasn't until May 29, 2014, when I got my next one at Scholl, #8 on #14. That was followed with #9 on on Hole #7 on March 26, 2015. Got a kind of rhythm going. #10 came on Hole #8 on June 2, 2016, with #11 coming on Hole #18 on March 23, 2017, and to date, the last one, #12 coming again on Hole #14 on December 4, 2018, at age 92! Wow; a string of these each year since 2015! As my strength wanes, nearly 93, I'm thinking maybe a dozen might be my number?
In honor of this upcoming event, I made a point of playing the course yet again on June 20, 2019 in the company of good friends. As we neared the Jackie Tree location on #16, I took a series of shots from various angles. One of them shows the new plaque I had to install some months ago, when the old one was mysteriously removed/lost.
At the end of this series, we also got some update shots of Lynn's tree to complete the picture. As we can see, both are prospering and looking wonderful.
PS The reunion with Zoey was wonderful; an accomplished graphics expert working at a large Hollywood studio. We resolved to stay better connected.
Jackie's Tree
Lynn's Tree
---