Whether or not you own a Neutra site, this section provides suggestions as to how you can live according to Neutra principles. Ideal lay-outs are suggested, keeping a minimalist style, and each area is considered in detail, showing you how to achieve the best interior design with a minimum of change, making your home more stimulating and restful. Consultation is available by sending email to Dion Neutra.
The Neutra Living Room is a sophisticated glass room with gleaming holly green mountains, fascinating sunsets and defining reds making it an urban living room that has the advantage of looking warm and welcoming in Winter; cool and distinguished in the Summer. The wooden floor has been bleached and very faintly tinged with green. The lacquered paint walls contrast with the color of the furniture fabric. A glass coffee table is added to break up the textural interest. The room should have a stable focal point to create a comfortable feeling, without visual pollution and addiction to consumerism. Each object has an assigned basic function without disturbing the clean lines of the design. In Neutra rooms, the observer is usually conscious of and concerned about something happening behind the home boundaries.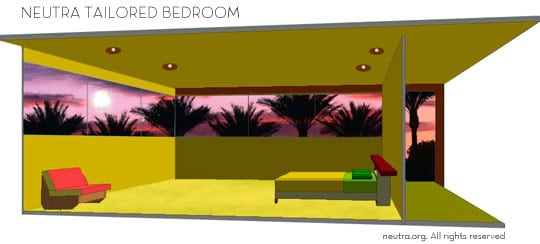 All too often people go from one extreme to another in bedroom designs with gentle pastel colors, frills and ruches. Yet, the ideal room should be a classic experience with Nature and the stars of the Universe. Your bedroom should be greeted by the morning sun filling the room with vitality, at a time when it is most needed and might provide an splendid view of the Winter sky. Bedrooms should not be built over garages. Despite the hazard of this basic organic principle, many modern houses are in notorious breach of it. Yet the inherent dangers ought to be self-evident: inflammable materials, by necessity kept in garages, pose a threat of fire, while there is a real possibility that chronic poisoning may result from the continual breathing (about three thousand hours every year) of toxic fumes seeping into the bedroom.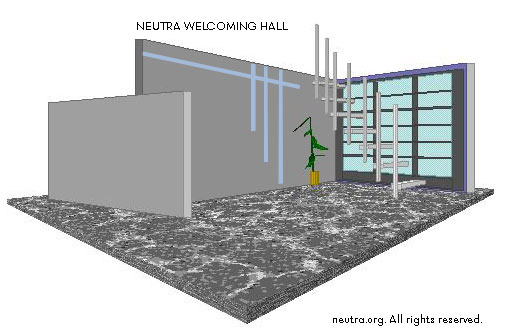 Think of a Neutra Hall as a written Japanese haiku: simple, timeless, with abstract elegance in human words. The entrance has to fulfill many functions including a good first impression. The hall has no accessories other than a large California ficus to give some feeling of softness and freshness, and the large basket in which it stands gives a nice contrast of natural color and texture.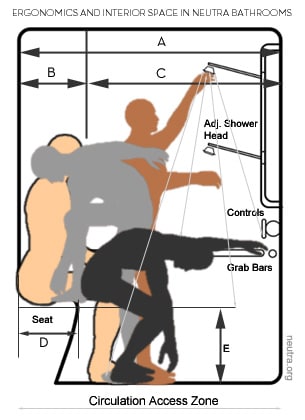 One of the most dramatic Neutra examples of a design situation where little consideration by contemporary architects is given to the relationship of human dimension and body size to the designed environment can be found in practically every bathroom. Few designers, architects, and users give any thought to the height above the floor of a lavatory or basic anthropometric considerations related to minimum shower clearances. However, hours, if not days, are spent in the selection of an appropriate color, fixture, model or trim. The height, however, is rarely specified and is simply left to the contractor in the field, who automatically installs it at the height that is has been installed for years simply because "that's the way it's done."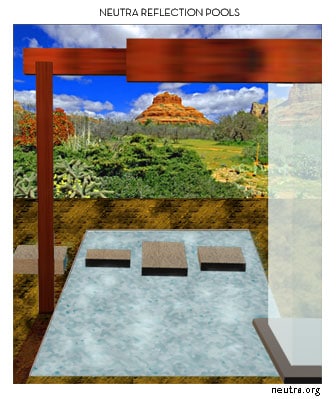 The size of a shower stall can vary greatly depending on the level of comfort desired. Safety is also an extremely important consideration. Unless a fairly reliable mixing valve capable of presetting a fixed and desirable temperature is provided, care should be taken to locate controls within reach but out of direct line of the water path in order to avoid scalding or freezing while operating the controls. Grab bars and a seat place are included in the design, in particular, for the safety of senior people who are prone to experience hip fractures due to slipping inside bathrooms.
In Neutra's transparent structures, the architect gives us a hint of the possible shapes of space in an environmental and floating world, just as a photomicrograph may capture the crystalline, mathematical structure of soap bubbles that seems real and tangible. By saying something similar about the world of space, the Neutras' work makes us more conscious of the existence of space as a physical element. Neutra uses light as his means of emphasizing space to ultimately, frame Nature effectively through organic landscapes as an expressive visual element. The mingling of earthly tones and fine gradations of light and materials create a method of how intimately the architect and his materials are allied. Our enjoyment and understanding of Neutra's work results, then, not only from the architect's visual experience but from his sensitivity to the characteristics of the materials. In Neutra's words, " Design as as aid to survival, must always have an intimate kinship to the life processes it serves within time." (Survival Through Design, Richard Neutra. 1954).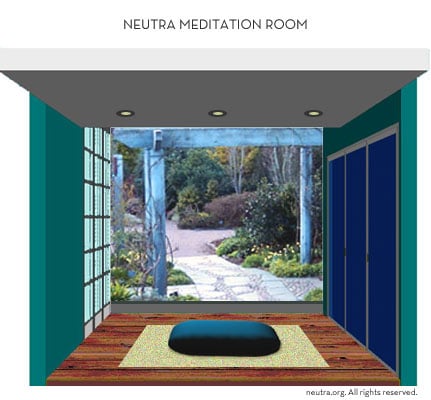 The Neutra architecture reminds us, by their striking collage of occidental and oriental architectural devices, that we must not think of the houses as a simple record of certain technical data and architectural codes, but as a real involvement in things. More, every house should have a meditation room. The Neutra meditation room, influenced by Neutra's teachings in Japan, has a radical spatiality, manifesting an absolute nakedness of built substance, creating in turn a permanent, manifesting resistance to opacity and impenetrability. It is not surprising that human beings should want their own houses to be simple places where information is limited and the home connection to Nature is a natural extension of the hills and exterior gardens.Neutra's homes are a Zen expression of the equality of two entities, man and environment, and his architecture transforms matter into image in the original waters of existence.